"I enjoy going to work because of the great staff and bosses we all get along and work well together. I like the compliments I get from customers on my baked products and they keep coming back for more, makes me feel good and motivated to keep putting my best in everything I do."
Anne Marie Gallant has been the baker at Chez Yvonne's since 1995.
---
"I enjoy the work experience as well as I love the company. I am grateful to be part of such a professional and admirable group of people that are honest, hard working and reliable. Of course, they are a lot fun to work with! Evermore reason to come back every summer. Summers in Cavendish are like being a kid again. Enjoy a double scoop of Wowie Cowie from COWS Ice cream on a hot summer day. Play on the warm sandy beaches. At the end of the day, sitting around an open campfire while gazing up at the clear starry-night sky. It's the little things that I truly love and admire spending the summers on the island. I love Chez Yvonne's and I am happy, willing and ready to face the day with an open-mind and a thankful heart. I always try to do the best I can."
Eric Pidgeon worked at Chez Yvonne's since 2016 as a cook. Eric is an entertainer for sure – so much fun.
---
"My position as Hostess at Chez Yvonne's in Cavendish has never seemed like a job. instead I find it a fun way to spend each summer. Our bosses, Paul and Linda Larkin, are awesome to work with, our staff are terrific and we love our customers! Many of whom have been coming since I have been there for our delicious homemade meals. They have become great friends as well. Working while socializing with staff and customers make it my dream job and the reason, I am so looking forward to my summer at Chez Yvonne's in Cavendish!"
Lorraine Mulligan – Worked as a hostess at Chez Yvonne's since 1988.
---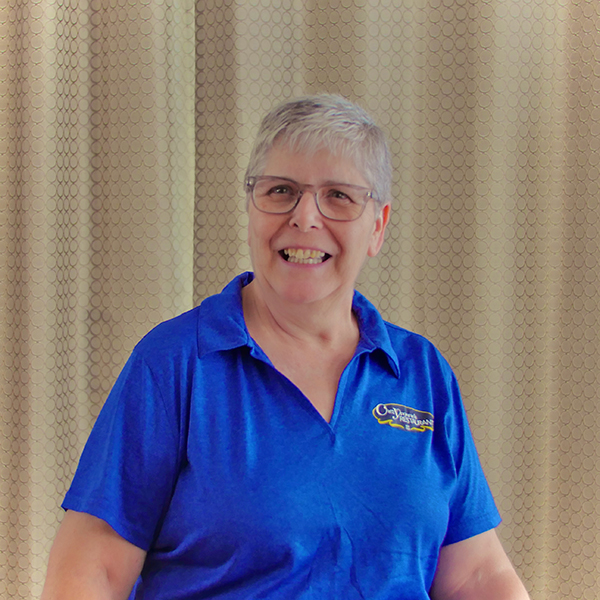 "What do I love about my job. I love working with such a great team of individuals. I love the fact that Chez Yvonne's gets customers who come every summer from all over the world, some have become great friends of mine. They come for the great food and welcoming service they receive. My work in Cavendish is close to my home and I look forward to going to work every day at Chez Yvonne's. My employers, Paul and Linda, are the best! They work very hard and appreciate their staff which says a lot about them. I am blessed to work for such wonderful bosses and with such wonderful coworkers and I look forward to our upcoming season."
Shirley Dunfield – Worked at Chez Yvonne's since 1998 as a server.
---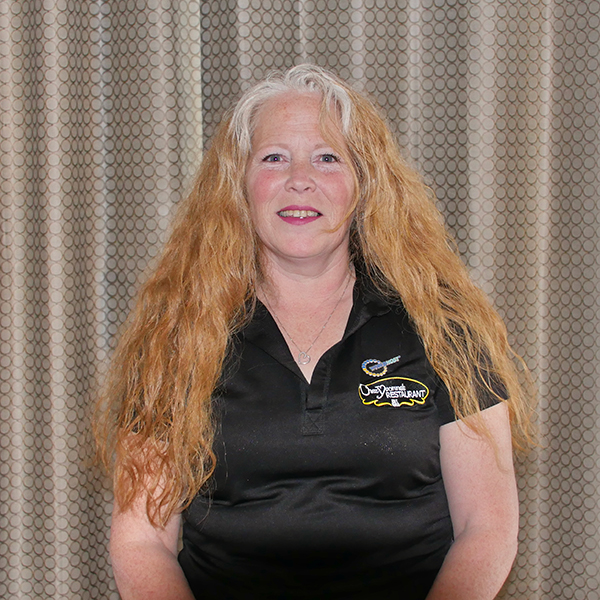 "Working with a great team to provide quality meals to our customers. The start of a new busy Summer Season. I love seeing the 'Open' signs start popping up. Like I'm heading in to spend the day with my other family."
Joanne Argue – Worked at Chez Yvonne since 1999 as a hostess and a server.
---
"What I love most about working at Chez Yvonne's is having the opportunity to be social and helpful to visitors along with getting the chance to talk to people and share my love of Cavendish, P.E.I. in the summer. I also love the family feel that the restaurant has. I have been working at Chez Yvonne's for six years. Before that my grandmother spent twenty-plus years working here, and my older sister has worked here for nine years. I feel very familiar with this place as I spent a lot of time eating here as I grew up. Cavendish is a huge tourist destination in PEI, so working at a restaurant in the heart of Cavendish allows me to chat with people from all over the world. There are always lots of people around and the busy environment is fun and exciting. All my life I have visited Cavendish throughout the summer, going to the beach or to amusement parks or to the Cavendish Beach Music Festival. It is the perfect summer vacation spot in PEI. I truly enjoy coming to work at Chez Yvonne's. Working in a restaurant you never know what to expect of your workday, but at Chez Yvonne's you can guarantee you'll find happy employees. With wonderful employers and coworkers, the fun and fast-paced environment are like no other. I always feel joyful and accepted and never once have I felt incapable of doing my jobs. I am much younger than a lot of the staff and I have done many jobs from dishes to serving food and I have never been made to feel inferior or too young. Everyone is extremely helpful, patient, and kind and always have smiles on their faces."
Ellen Cole – worked at Chez Yvonne's since 2014. She started as a dishwasher, then prep cook, then in the dining room as a bus girl and now working as a server.
---
"What do I love about my job? I love the family I work with, mentoring the young people starting their first jobs, the family atmosphere that Paul and Linda have created for a work environment.

What does summers in Cavendish mean to me? Getting to see all the locals and business heading back to another season. Meeting new people who come to see our beautiful Island.

How do I feel about coming back to work? always excited, its great after a long PEI winter to get back to work, I love the excitement of opening up again and meeting new staff.

I have learned so much at Chez.

Chez Yvonne – I love passing on my knowledge, food safety, first-in first-out, cross contamination, the importance of our food going to the dining room the best it can be even in busy times. that's what keeps our customers coming back and staff staying for 20-30 yrs."
Patti Pineau has worked as a cook since 2000 at Chez Yvonne's. She has been the kitchen Manager since 2014.
---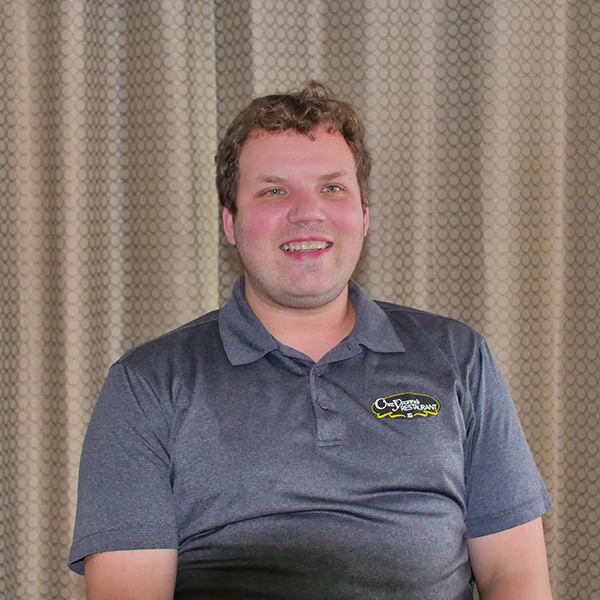 Mike Mallaley has worked at Chez Yvonne's as the Dining Room Manager since 2016.
Chef Paul Peters has worked at Chez Yvonne's since 2011 as our Chef.
Paul Graduated the Culinary institute of Canada in 1997.
His first restaurant job was as a dish washer at Chez Yvonne in 1991 where he realized he wanted to be a chef.
Since then he has worked all over P.E.I., Halifax, and Nunavut.
Since then he has worked all over P.E.I., Halifax, and Nunavut.
In 2005 Paul opened the Maple Grille in Charlottetown, he also was an instructor at the C.I.C.
Chef Paul has won several medals and awards and has competed for P.E.I. and on Behave of Canada at the N.Y. restaurant show.
He resides in North Granville with his Partner Connie.
Paul is a big supporter of all the local products P.E.I has to offer